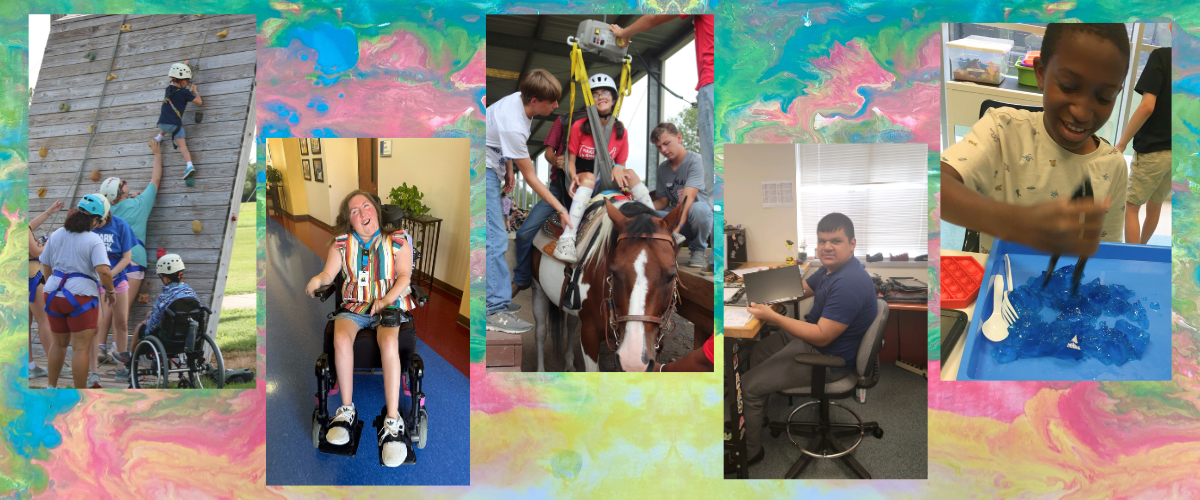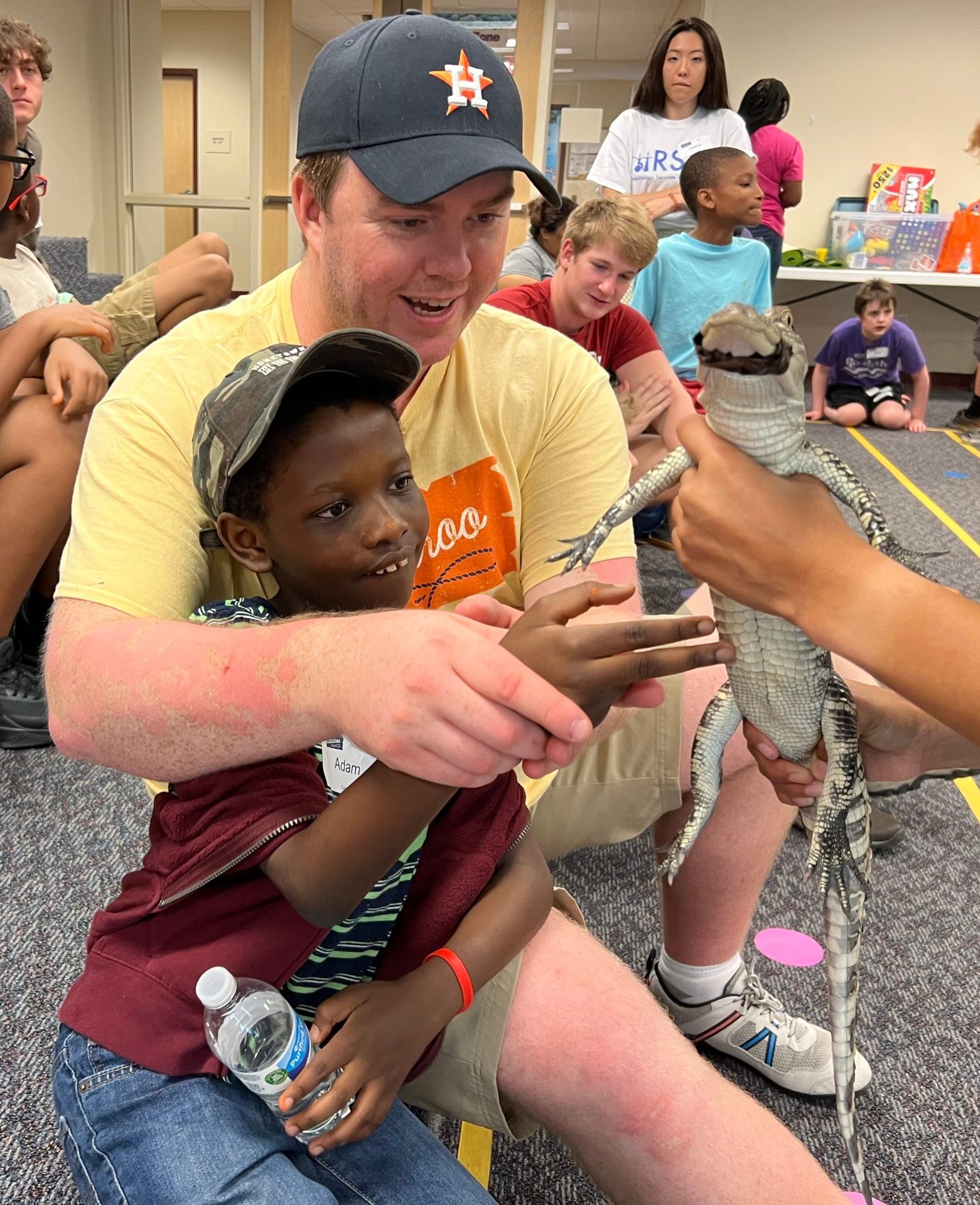 My name is Ross McCann, I am the Camps Coordinator at Easter Seals Greater Houston, where I also run a Tuesday night play group where we do karate, video games, and more! I am from Ireland, and I moved to Texas in 2019. I have a 10-month-old son and two dogs!
We just completed a fantastic Summer of camps, with four weeks of Camp Buckaroo and seven days of Camp Smiles. Camp Buckaroo was a tremendously fun adventure, each week bringing a new challenge, but also a new set of kids to have a blast with! Camp Smiles was simply that, all smiles, all week long! It was simply incredible what our kids who join us each Summer are capable of doing and the joy we all get to share!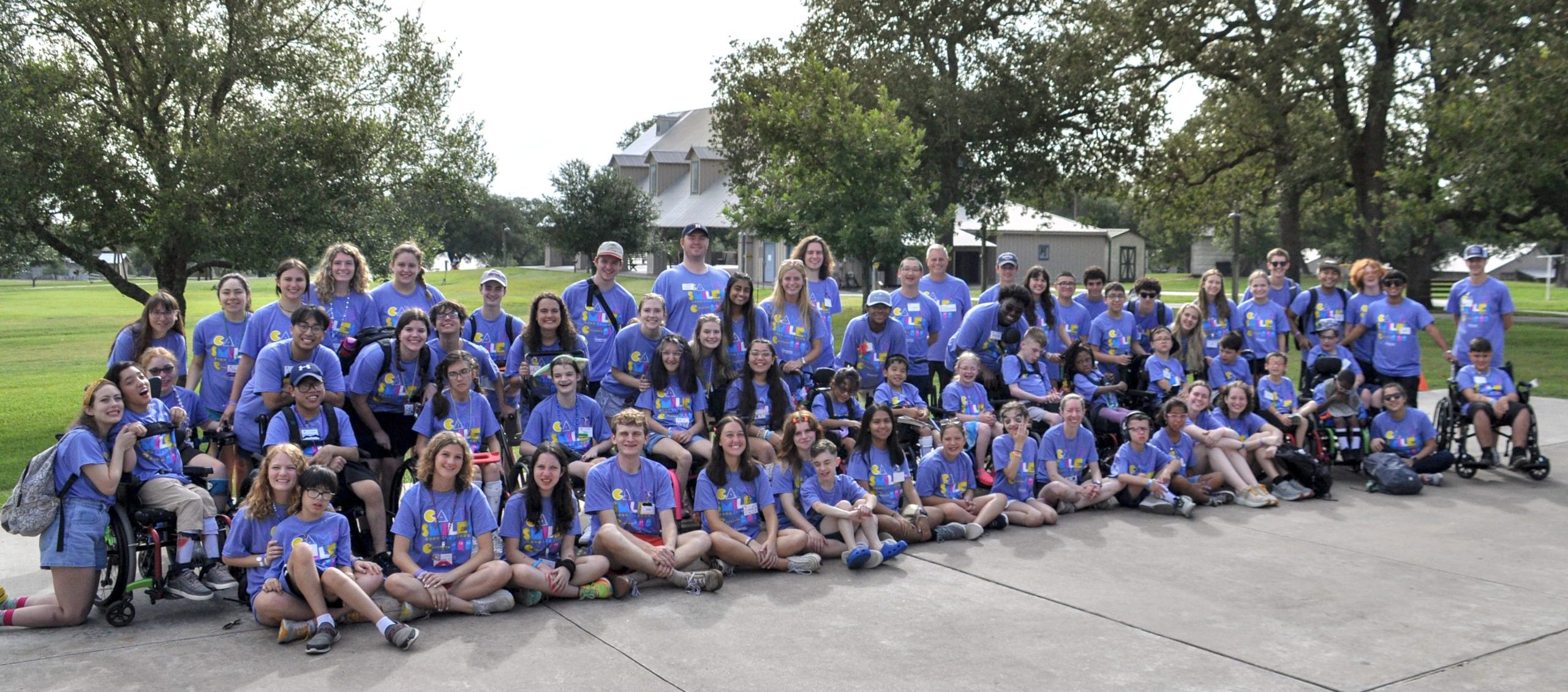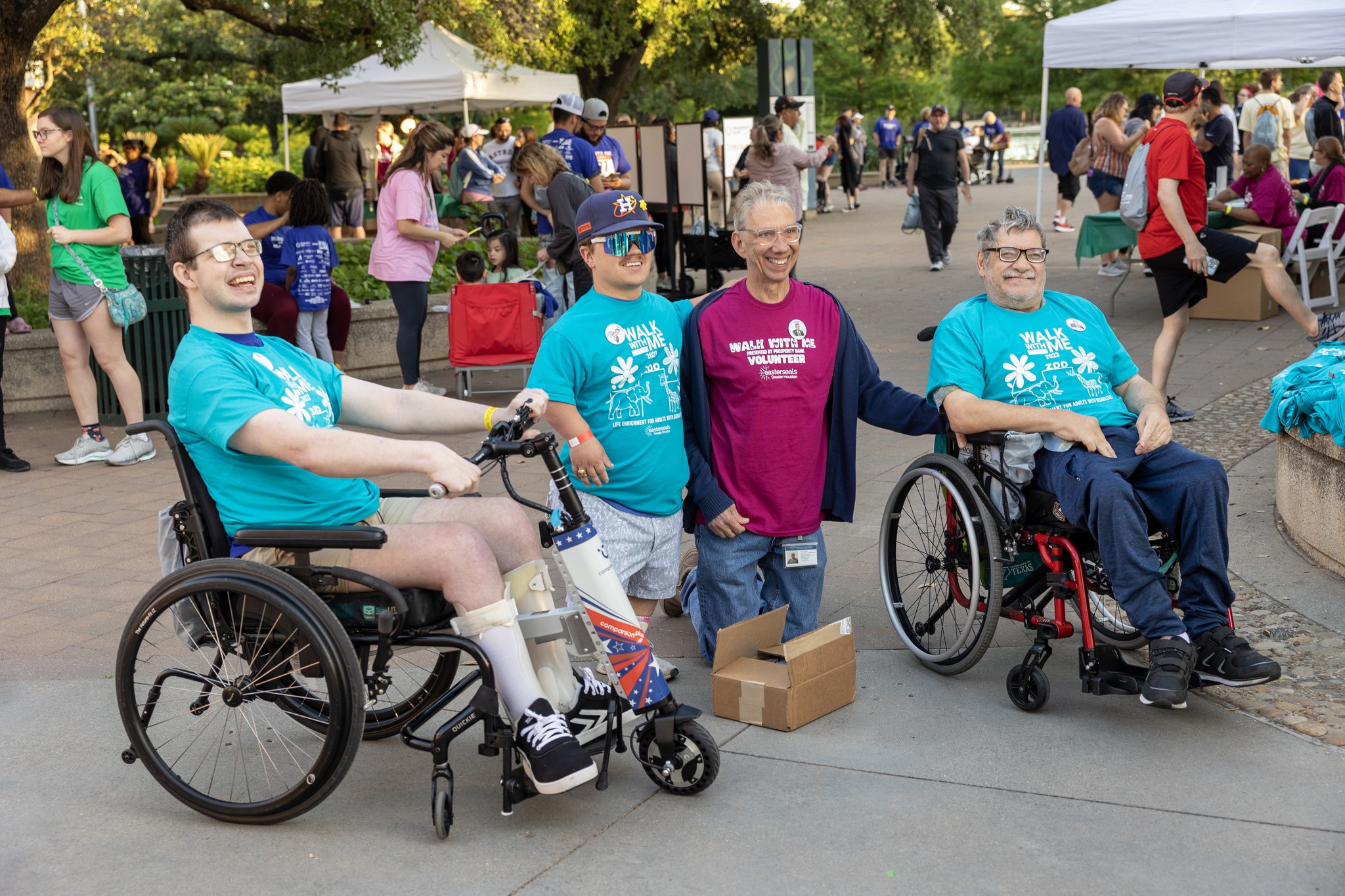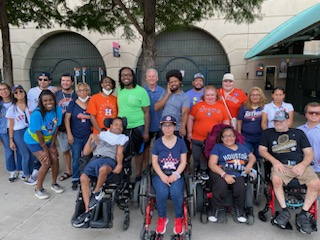 My name is Matt Ritch and I am the Coordinator for the Adult Program and for the Young Children's Play Groups. I was born and raised in Houston and I love Astros baseball. I attended college at Stephen F. Austin State University where I met my wife Susannah. My favorite thing to do in my free time is play pickleball, play bingo, and hang out with my friends.
This summer our Adults have been doing activities like karaoke, bingo, drama therapy, and painting, and we've gone to the Natural Science Museum, Astros & Space Cowboys baseball games, the movies, and the mall.  Our Young Children's Play Groups have been busy working with ToyTech toys and using music to expand on their colors, shapes, and words. It has been a fun, busy summer for our young children and our adults!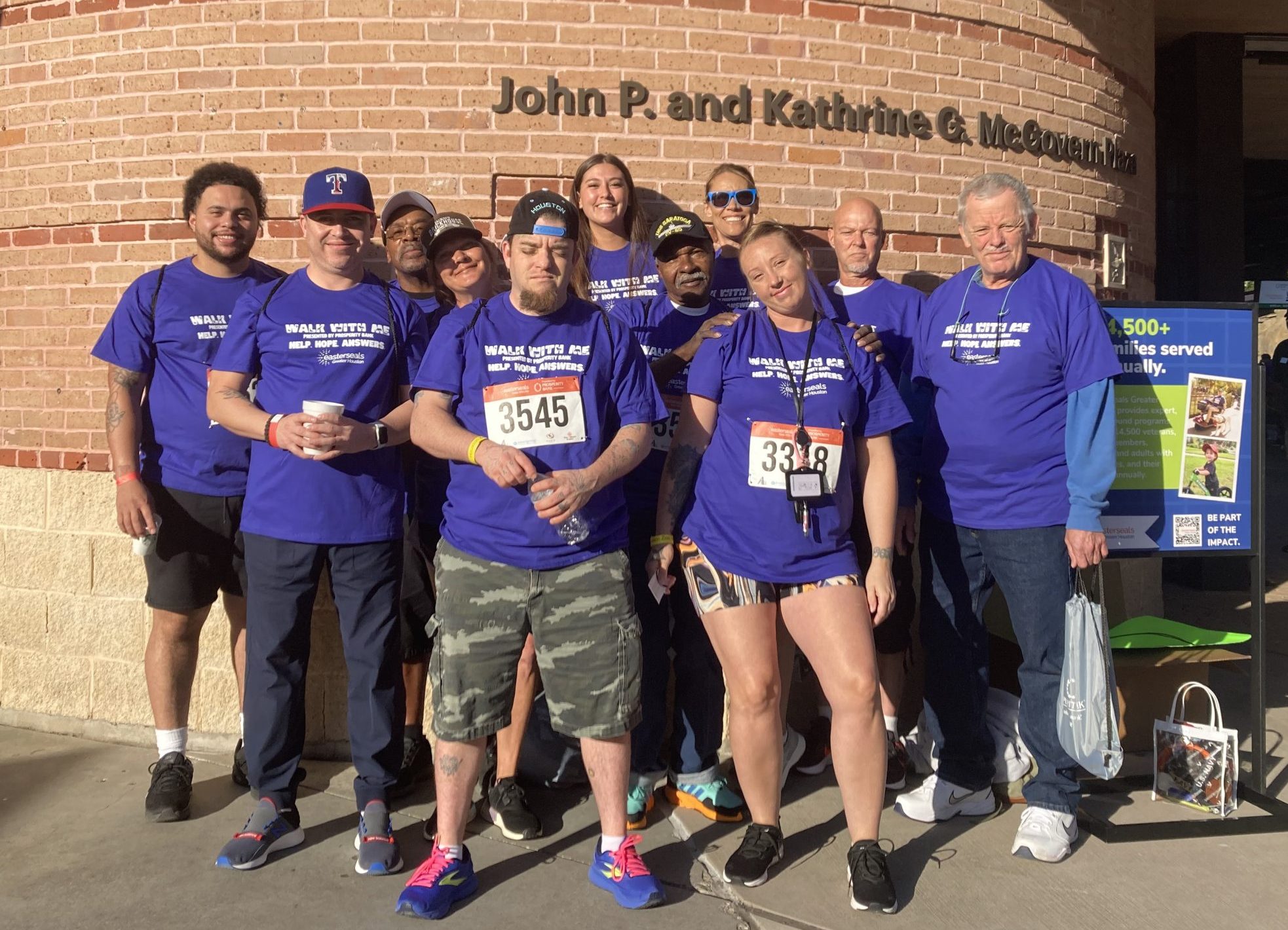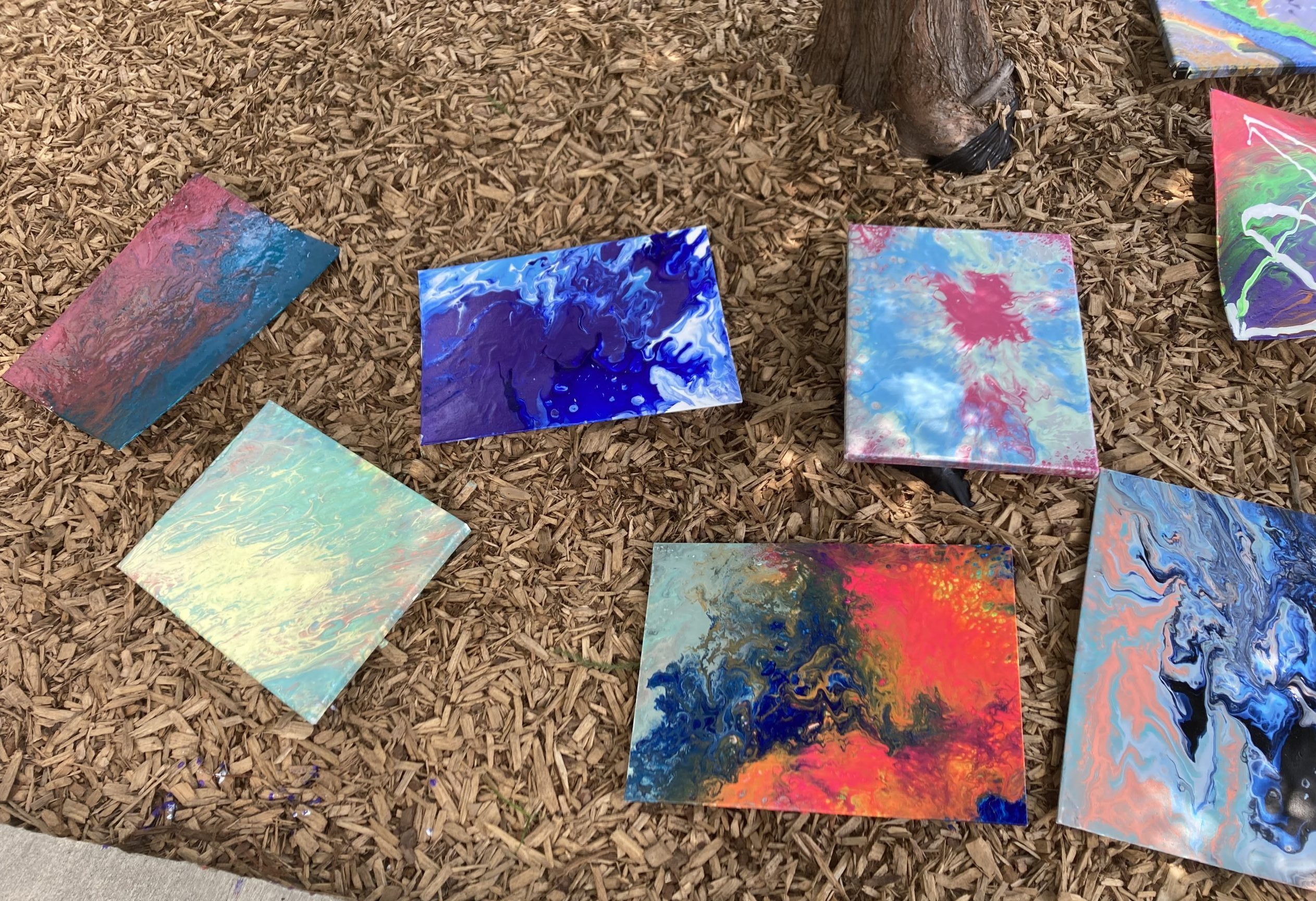 My name is McKenzie Garland, and I am a Recreational Therapist. I am from a small town in Ohio, and have lived in Houston for five years now. I love sand volleyball, my two cats, and everything outdoors.
I work with the Camps & Recreation team working with veterans. During our Recreation program, our veterans have participated in a wide array of activities, from pouring art, to tie-dying t-shirts, to trivia, to yoga, and more. Our goal is to continue to grow and find new, fun, purposeful recreational activities to engage in with our community as a part of mental health services.
The Toddler Room is Ready!
The Caroline School Toddler Classroom is officially open! Our new classroom features a center-based layout, child-led curriculum, an accessible playground, and a variety of adaptations and accommodations specific to learners with disabilities and additional medical needs. The Caroline School values each child's larger team and truly collaborates with parents and therapists to develop the most appropriate individualized education plan for each learner.
Act now while opportunities are still available to enroll your child for this Fall semester! Contact  Michelle Andrade at 832-776-1758 or MAndrade@eastersealshouston.org to schedule your tour and learn more. Our exceptional special education teachers can't wait to meet your 18-month to 5-year-old learner.
Is your child school ready?
The Easter Seals Greater Houston's Children's Therapy Clinic is here to help with handwriting, conversational turn taking, participating in classroom activities, and so much more! Each therapist has specialized training and experience working with children from birth to 21 years to promote growth and development to help them reach their developmental milestones. Through speech, occupational, and physical therapy, our therapists help children participate in school, family, and community activities.
Our clinic is conveniently located inside the 610 loop within miles of Texas Medical Center. To refer a child, or for further information, please email therapy@eastersealshouston.org or call 713-838-9050, ext. 381.
BridgingApps' custom-built App Search Tool allows users to shortcut the process for finding mobile apps and some web-based tools that help people with disabilities, caregivers, older adults and others. Reviews include short how-to's, main functions, reviewer experience using the app, benefits, helpful features, and more. Sign up for a FREE account today!
Texas Youth2Adult is an interactive tool created to empower youth to grow successfully into adulthood. It was created with input from parents, health care providers, educators, transition specialists, and youth. Use this tool to begin planning early, ask the right questions, and find resources!
Upcoming Events and Programs
Music and Movement Play Group
Babies and toddlers ages 0-36 months who are enrolled in Early Childhood Intervention are invited to join us in-person at one of our three convenient locations. Music and Movement activities include circle time, singing, parachute play, bubbles, games, and free play with ToyTech toys!
For more information, please contact Matt Ritch at 832-919-2686 or mritch@eastersealshouston.org.
Tuesday Adapted Play Groups
Military-connected kids, people with disabilities, and siblings ages 6-17 are invited to join us Tuesdays at 5:30 pm for fun activities that develop friendships and skill sets! Please email us at playgroup@eastersealshouston.org or check out our full schedule today!
Tiffs Treats: September 15th–30th
Reward yourself – you've made it through the start of a new school year! Celebrate your new teachers and your kiddos with an order of delicious cookies! Use giveback code "ESGH" from September 15th-30th and Tiffs Treats will donate 20% to our nonprofit. Thank you for helping us win additional funds by spreading the word on this sweet deal! 
Six Week Veterans Program beginning late September or early October
Veterans who are interested in meeting people within the community and interacting with horses are invited to join our collaborative program with SIRE.  The program will include therapeutic horsemanship and sessions with mental health clinicians.
To learn more and reserve one of the limited spots, please contact us at 346-330-3859 or email Veterans@eastersealshouston.org.
Holiday Adoption
November & December
Help make the holidays special for families who are struggling to cover the overwhelming expenses of caring for loved ones with disabilities. You, your company, your family, your organization, anyone can make a huge impact by adopting a family and giving them gifts, clothing, and necessities. With your support, you can make the holiday season memorable for those who could not otherwise have a holiday celebration. Please contact Kelly Klein at 713.838.0878 or kklein@eastersealshouston.org to get involved.
Walk With Me Houston, Presented by Prosperity Bank
Saturday, April 20, 2024
Houston Zoo
Join us for the 13th Annual Walk With Me, a Family Fun Walk that benefits Easter Seals Greater Houston's services for people with all types of disabilities. Special thanks to our early returning sponsors Prosperity Bank, Quanta Services, Alvarez and Marsal, and Talos Energy. Their generosity paired with our event chairs Katie Dowdell of Prosperity Bank, James Stinson of Quanta Services, and Jim West of Prosperity Bank will make this the best Walk With Me ever! Become a Walk With Me Sponsor and help provide transformative services to the disability and veteran/military-connected community.
Follow us on social media to keep up with our clients' successes!
Support our favorite little toots by purchasing a bag of Bunny Farts from Little Stinker Candy today! 10% of all profits from Bunny Fart sales go to support children and adults with all types of disabilities! 
We're so OGRE the heat! Rest easy in the A/C knowing Energy Ogre is saving you money on your energy bills while simultaneously powering our life-changing programs!
Sign up today to get one month FREE!