Programs for Service Members, Veterans and Military-Connected Families
The mission of Easter Seals Greater Houston's Service Members, Veterans and Military-Connected Family Program is to assist military-connected families with building the lives they want. Our staff wants to help meet the needs of people who are serving or have served in the military and their families. We aim to foster stability, wellness, and growth with our services.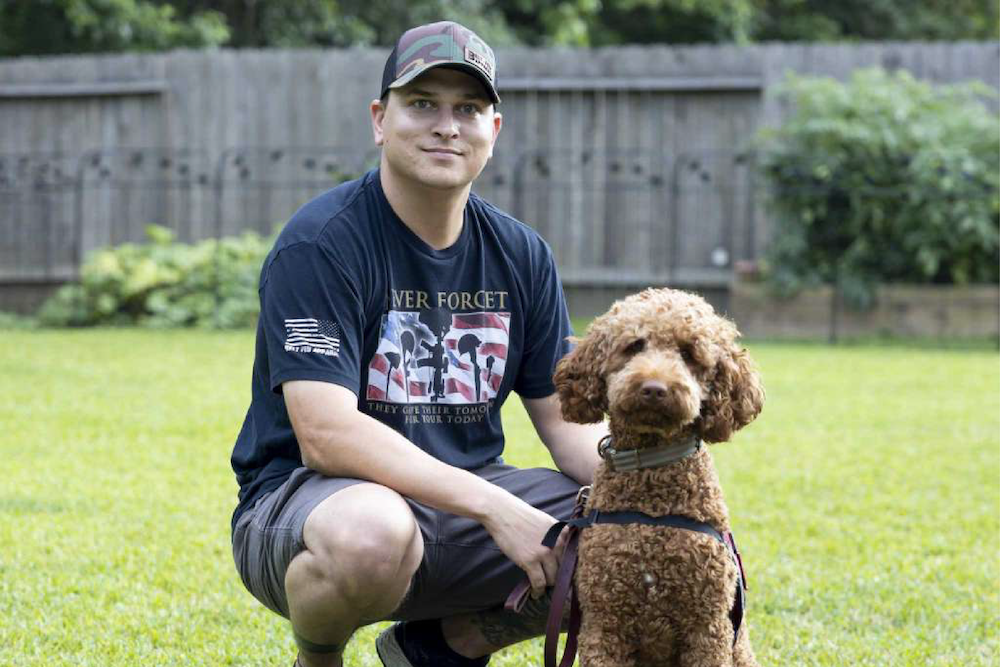 Program Details
Easter Seals Greater Houston is proudly serving current Service members, Veterans and their families in Harris and all surrounding counties. Our reach can extend to those throughout the state who are interested in tele-mental health services. Our mission is to assist military-connected families in building the lives they want during and after the military to meet their needs around reintegration, stability, wellness, and growth. Our goal is to provide an easy point of entry for Service Members, Veterans, and Military-Connected families to a range of behavioral health services.
CONTACT: 346.330.3859 or Veterans@eastersealshouston.org
Behavioral Health Services: 
Access Cafés are collaborations of the Texas Veterans + Family Alliance partners, offering hosted classes/tech support to the partners and their clients. Classes cover financial topics from budgeting basics to homebuyer education; technical assistance applying for public benefits; and demos on financial apps, mental health apps, or any apps that show people how technology can improve their mood or life (for example, a class on photography using phones and tablets). Access Cafés have even provided behind the scenes support for TVFA partners, including Easter Seals assisting Mental Health America in the creation of this video on how to use their mental health assessment tool.
Camp Coleman - a family retreat focused on integrating new service dogs into our veteran and military families.
Assistive Technology includes the assistive technology lab and the BridgingApps program specializing in reviewed apps for smart tech. This service works with the other services listed to help people meet their needs, especially in remote areas or those with transportation difficulties. Check out our Veterans app list.
Case Management Services - Case Management Services are open to all Service Members, Veterans and Military-Connected families living in Fort Bend and Harris Counties as well as The Brazos Valley. Participants will receive an assessment and then work together with the case manager to develop a roadmap for success.
First Light Family Camp – a family retreat focused on giving families an opportunity to connect in the outdoors and to engage with mental health supports
Financial Coaching/Home Buyers Education helping families create financial stability and a better future by increasing income, building savings and acquiring assets. Make sure to view our featured apps, and other online tools thanks to Freddie Mac
Mental Health Services offering individual, couples, and family therapy for individuals of all ages. Groups are also available. Offering evidence-based therapies including those for depression, PTSD, Insomnia, and Nightmares.
Respite for Caregivers to help provide relief options to parents and individuals who provide ongoing care of their family member who has a disability.
Service/Companion Dog Program We offer Veterans the possibility of becoming part of an innovative Train Your Own Service Dog Program to improve the veteran's overall quality of life. Learn more.
Supported Employment provides an individualized approach to assisting people with disabilities and other needs to make informed choices and attain their employment aspirations.
Texas Veterans + Family Alliance Easter Seals Greater Houston is the lead collaborator in leading system level change/outreach and direct services to Veterans and their families through counseling, case management, technology, telehealth, and other supports that will increase access to mental health services. Texas Veterans + Family Alliance is through the Texas Health and Human Services Commission and in partnership with other local organizations.
Meet our Veterans, Service Members, and Military-Connected Family Programs Lead Clinician, Diana Hofstetter, LPC-S:
Diana Hofstetter, LPC-S has worked in the mental health realm since 2010. She has worked in case management and crisis, with individuals, couples, and groups. She is trained in a variety of evidence-based treatments including PE, WET, CBT-I&N, ART, and Gottman Level 1&2.
Thank you to our generous sponsors Brian W. and Irene H. Binash Foundation, Inc., The Coleman Family, Comcast Houston Region, Enrico and Sandra di Portanova Charitable Foundation, The George Foundation, George and Mary Josephine Hamman Foundation, JP Morgan Chase, Deena L. Morgan, Darri Ofczarzak, Phillips 66, Powell Foundation, RDM Positive Impact Foundation, Ruth Jones MacDonald Charitable Trust, The Schissler Foundation, State Farm Insurance, Strake Foundation, Texas Health & Human Services, Texas Veterans Commission, Texas Veterans + Family Alliance, United Way of Greater Houston, Whalley Family Foundation, The Bob Woodruff Foundation, and Youth Action Council.