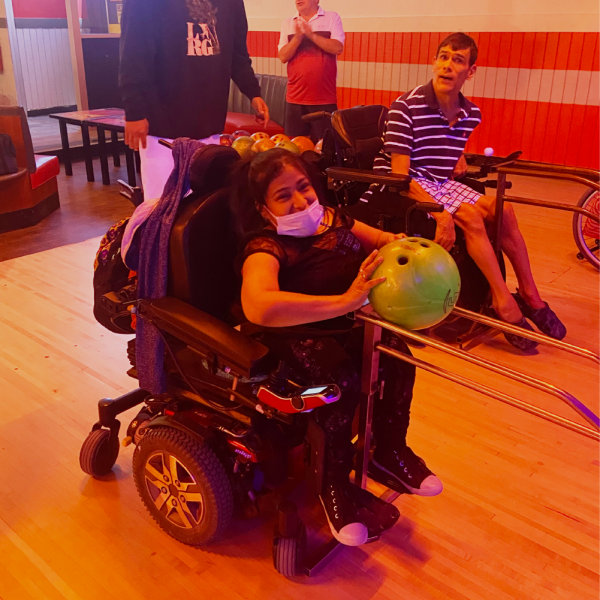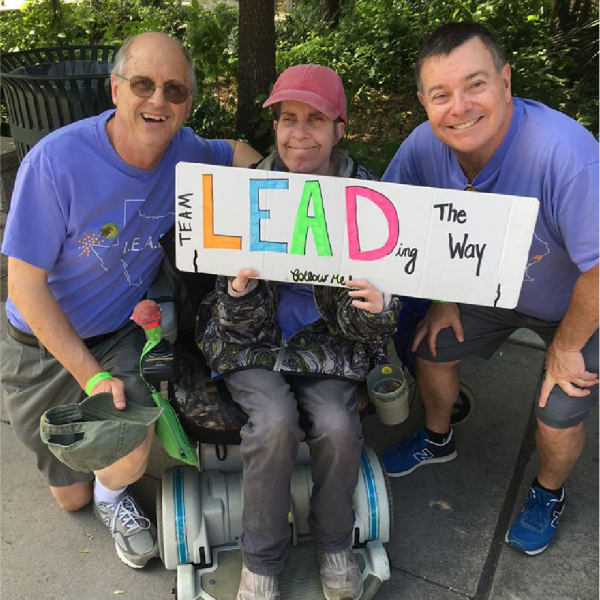 Adult Bowling Program
The Adult Bowling Program uses adaptive equipment to help people with disabilities bowl. This fun program is held most 1st and 3rd Saturdays. Volunteers assist with ramps and games. Each participant can play 3 rounds of bowling for $5.
To apply to participate as a client for our Adult Bowling Program, please email dlemoine@eastersealshouston.org.
LEAD Adult Day Programs
Clients involved in the Easter Seals LEAD (Life Enrichment for Adults with Disabilities) Adult Programs are adults who have experienced barriers to social integration and opportunities due to the perception of their disabilities. We provide a safe environment for adults to socialize with one another and participate in activities enjoyed by all adults. We strive to broaden their experiences and introduce them to new things. The Adult Day Program (2 age groups) meets Mondays for yoga, games, bingo, crafts and other activities and Wednesdays for community outings. Volunteers assist participants with the activities and help with feeding (as the volunteer is comfortable).
Typical Adult Day Program Activities:
Yoga, Bowling, Painting, Self-Defense, Crafts, Cooking, Volunteer projects, Field Trips to Discovery Green, the zoo, and Sporting events such as Astros and Dynamo games, etc.
LEAD Adult Seasonal Activities
Programs are offered for 4 months at a time throughout the year. These programs will vary depending on interest, need, and availability. Examples include Fitness, Art and Music Classes, Drama Therapy, Coffee Social Group, etc.
These varying activities will be offered three times throughout the year:
1. Spring Session – January to April
2. Summer Session – May to August
3. Fall Session – September to December
To apply to participate as a client for our LEAD Adult Day Programs and Seasonal Activities, please email adult@eastersealshouston.org.
To volunteer for LEAD Adult Day Programs and Seasonal Activities, please fill out our volunteer interest form.
Thank you to our generous donors CVS Health Foundation, Isla Carroll Turner Friendship Trust, Memorial Drive Presbyterian Church, Once Upon a Time Foundation, and United Way of Greater Houston.