Early Childhood Intervention (ECI) Services

Early Childhood Intervention (ECI) is a statewide program administered through Texas Health & Human Services for babies and toddlers, birth to 36 months, who have developmental delays, medical diagnosis, disability or atypical behaviors. Our main goal is to work with parents and caregivers in their everyday routines and natural environments where children learn best and we can support the needs of the entire family.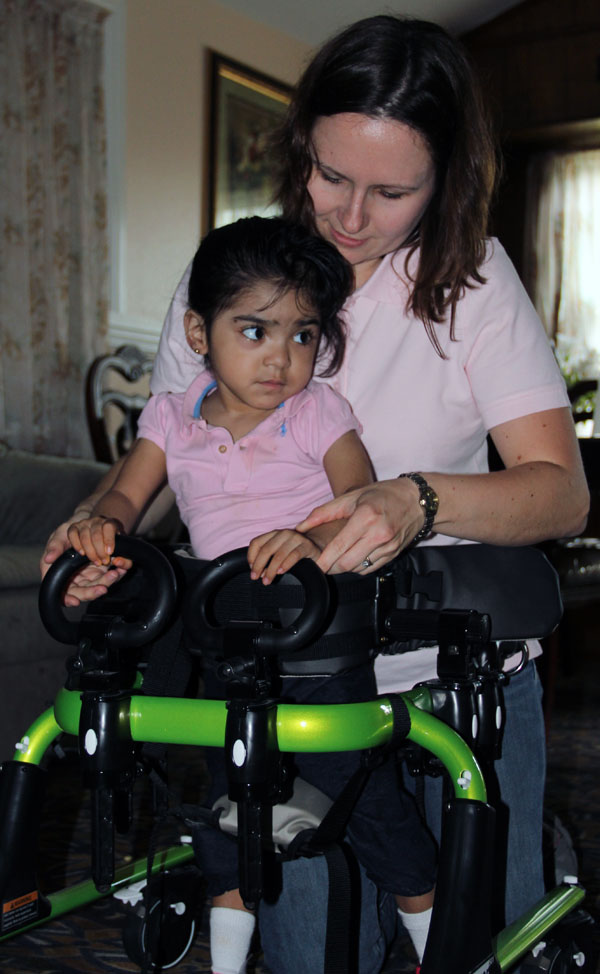 Who can access ECI services?
Are you concerned about your baby's development? ECI services are available for children birth to 36 months who show a developmental delay, who are at risk for a delay, have a disability or atypical behaviors. Evaluations are no cost to parents, although we will ask to bill your primary insurance/Medicaid carrier, you will not be billed. For services for children over 36 months or 3 years of age, learn about our Children's Therapy Program here.
How do I make a referral, and how does my child qualify for services?
Anyone can refer a child for a developmental evaluation, including parents, caregivers, friends, neighbors, doctors, and other community agencies. If you would like to make a referral, please fill out the ECI Referral Form and email it to ecireferrals@eastersealshouston.org. You can also call our referral line at 1-877-797-8999. The referral line is open 24/7. Once a referral is received, we contact the parent or caregiver to schedule an in-home or virtual developmental evaluation. Our developmental assessment tool will determine if a child is eligible based on developmental delay. If a child has a medical diagnosis, you can check to see if it is a qualifying medical diagnosis with the ECI Qualifying Diagnosis Search tool. Children diagnosed with an auditory or visual impairment may also qualify.
What services does ECI provide?
We offer an array of services based on the child's needs. Our services are provided by licensed/certified providers who have extensive experience and are specialized in working with small children. Our services include but are not limited to:
Occupational Therapy
Physical Therapy
Speech Therapy
Specialized Skills Training
Case Management
Nutrition
How much do ECI services cost?
If your child receives Medicaid or CHIP, your services are covered by your plan. If you have private insurance, with your permission, we will bill your insurance. If private insurance does not cover your services or if your child does not have any health coverage, our program will share the cost of services with you based on the ECI Family Cost Share scale.
View the Early Childhood Intervention Services Family Monthly Maximum Payments Sliding Scale. An ECI provider will help you determine the cost at the time of the evaluation. ECI services are available to everyone in need, and ECI will not allow cost to determine the level of support.
Where are ECI services provided?
ECI services are provided in a child's natural environment, meaning wherever the child spends most of their day. That may be the child's home, a caregiver's home, or a daycare. Services may even be provided virtually or at other community locations. Easter Seals Greater Houston's Early Childhood Intervention/Infant Program proudly serves the following counties: Brazos, Burleson, Fort Bend, Grimes, Harris, Leon, Liberty, Madison, Montgomery, Robertson, Walker, and Washington.
Easter Seals Focus on Development
At Easter Seals, we know the first five years of life lay the foundation for a child's long-term well-being and overall success. Because children learn and grow at different rates, even the most attentive parents can miss important milestones.
As a leading provider of child development services, we are here to be your partner in raising a healthy and happy child. We'll help you be aware of the five key growth areas during the critical first five years of your child's life. Learn more about Make the First Five Count.
This program is made possible thanks to Brazos County, Texas, Episcopal Health Foundation, The George Foundation, Rotary Club of University Area Houston, Texas Health and Human Services, United Way of the Brazos Valley, and United Way of Greater Houston.