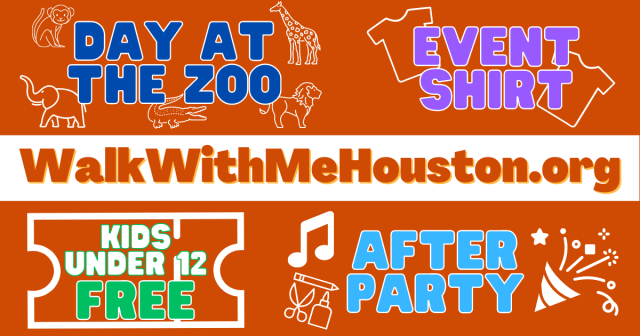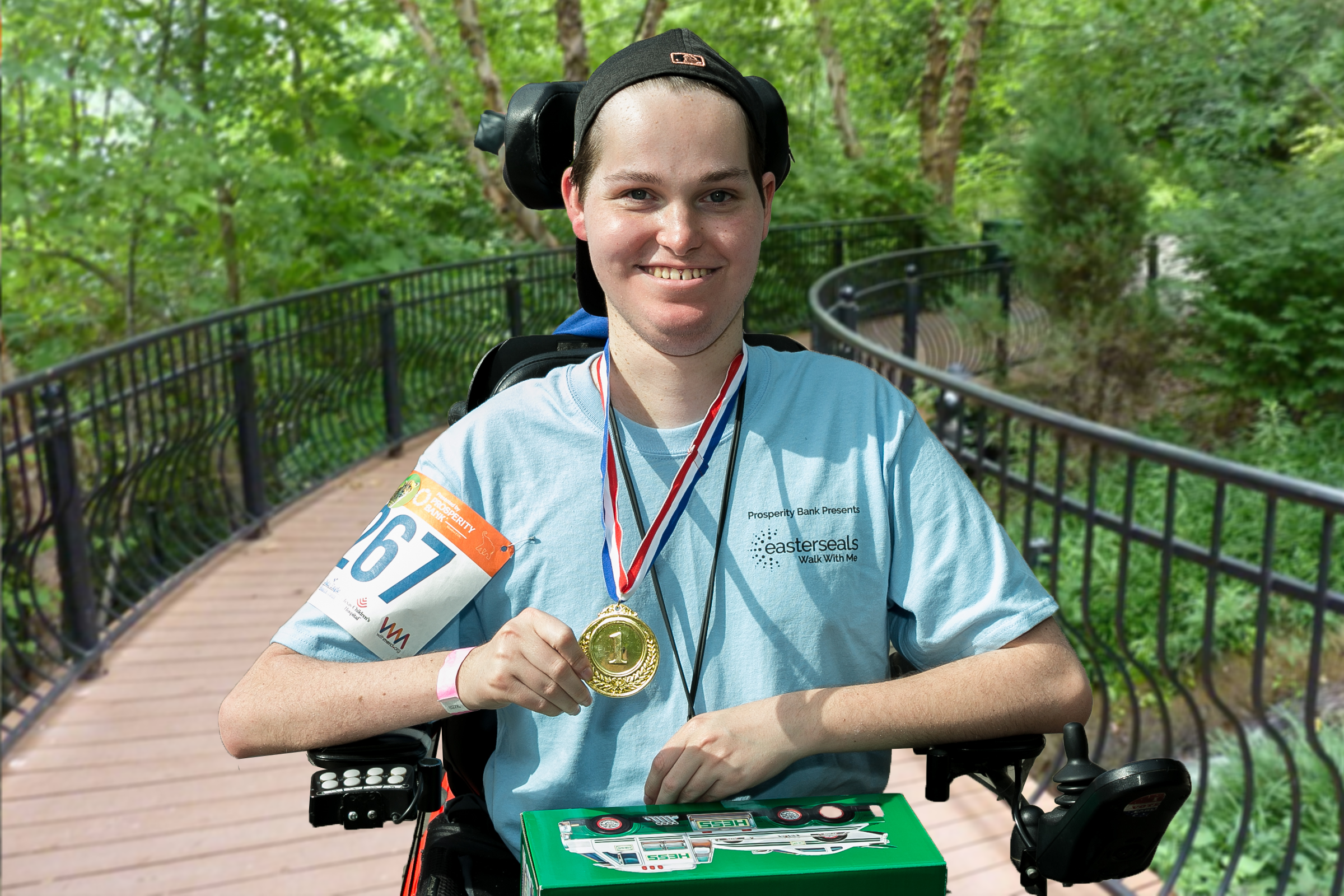 Reasons to participate in Walk With Me Houston on Saturday, April 22nd:
Day at the Houston Zoo (new penguin, Galapagos Tortoise, & sea lion exhibit!)

Event shirt AND racer number

After Party with food, entertainment, and a children's carnival

Kids Under 12 are FREE!

Support Easter Seals Greater Houston Programs
We are only 36 days away from the 12th annual Walk With Me Houston presented by Prosperity Bank! Ask anyone that has participated in the 5K through the zoo, it is a truly joyful day packed with animal shows, dancing, children's activities, and more. Walk With Me brings together Easter Seals Greater Houston clients, community supporters, donors, and the staff that provides transformative services. Together we will walk, roll, and stroll toward a more inclusive and accessible future. 
This year, Easter Seals Greater Houston will serve more clients than ever before. Our team knows this means that we need to break fundraising records in order to provide the services that over 14,500 veterans, service members, children and adults with disabilities, and their families depend on. Will you help us raise $1 Million? Every step taken and dollar raised allows more clients to access therapy, education, job training, and more. Any amount you can give--$50, $5, $1--is deeply appreciated and will help change a life.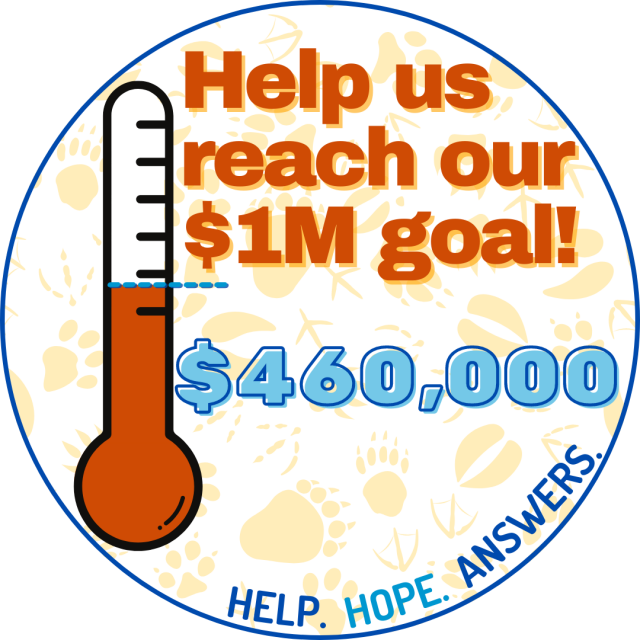 Help us reach our $1 Million goal for disability and veteran/military-connected services. Register for Walk With Me and raise $200 by Friday, March 31st, to be entered into a giveaway for a $100 gift card to Walmart.
Check out our Fundraising Tips and Tools to get started!
Helping us spread the word is easy and helps your neighbors with disabilities. Use our premade graphics to post on your Facebook, share on your Instagram story, hang up a poster, or send an email. Saturday, April 22, 2023, will be an incredible day that your friends, co-workers, and family will not want to miss out on, thank you for getting the word out!
Can't come?! Please consider making a donation and making a difference in someone's life. Donate now!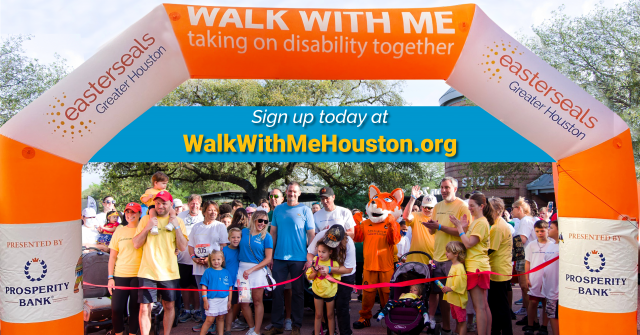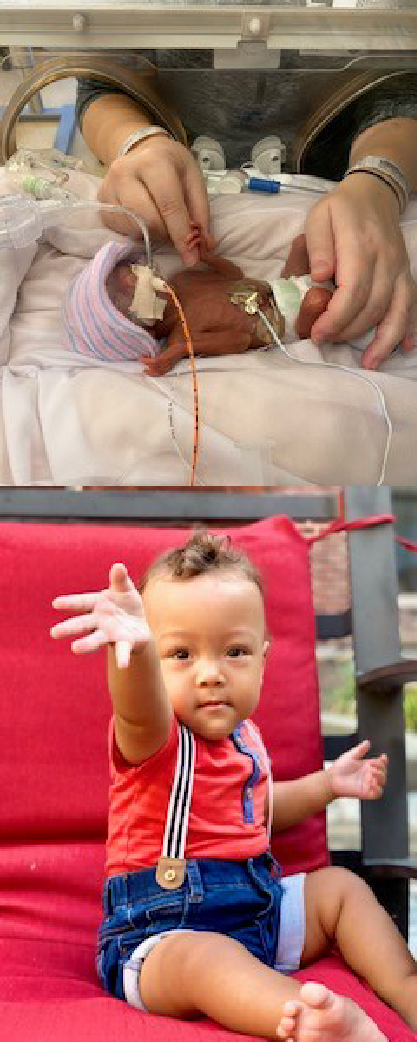 Meet Rilind, a 2023 Walk With Me Ambassador
Rilind entered the world after only 22 weeks gestation. He weighed 1.12 pounds and was unable to breathe on his own. After a daunting 145 day stay in the NICU, he was finally able to come home.
Since then, Easter Seals Greater Houston's Early Childhood Intervention therapists and specialists have been caring for Rilind. The team has used their expertise to help him reach his milestones with the help of Physical Therapy, Occupational Therapy, Specialized Skills Training, and Nutrition support.
Rilind's mom shares, "We have had the privilege to work with outstanding Easter Seals personnel that have become part of our family. Rilind looks forward to and gets excited when therapists or the nutritionist come for their sessions. We can't thank them and the rest of the staff enough. We are excited about the future and can't wait to see what he will achieve while we remain #RilindStrong."
Your support helps families like Rilind's connect to services that profoundly change their lives. Easter Seals Greater Houston's services and resources are mostly free or sliding scale, making their transformative services accessible for all. Register or donate today!
Special thanks to our newest 2023 Walk With Me Houston sponsors Alvarez & Marsal, EPAM, Houston Methodist, Lockton, and Verizon.
Elevate your company's/organization's brand while making important services possible by becoming a Walk With Me Sponsor! Perks include:
Increase community visibility pre-event and event day

Reach an audience of 4,000+ on event day

Build employee engagement and demonstrate your company's commitment to corporate social responsibility

Change the lives of children, adults, service members, and veterans with disabilities