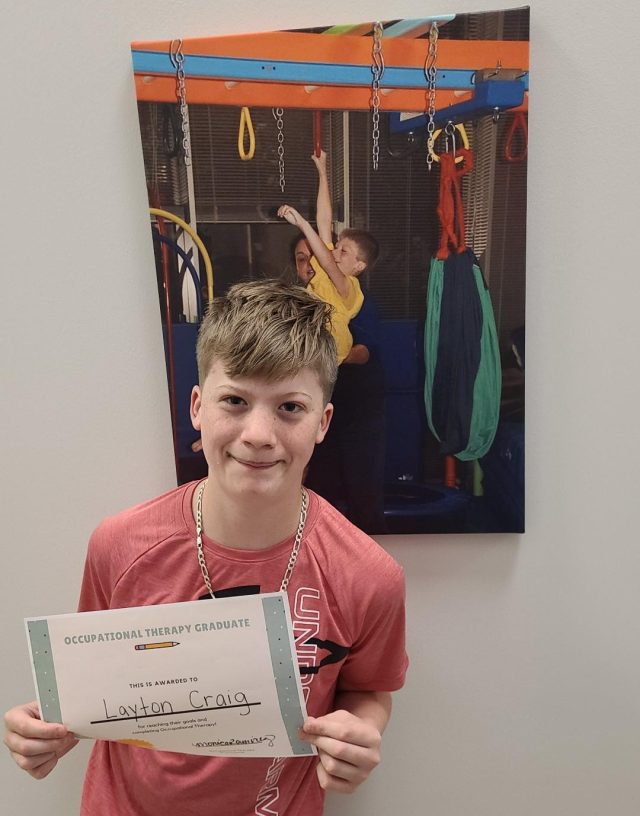 Layton Craig is an official Occupational Therapy Graduate! Layton has been a part of the Easter Seals Greater Houston family since he was very young. Layton came to Children's Therapy Program at the age of 3 and had difficulty with sensory processing, which affected his physical, sensory, and emotional development.
During his time with the Children's Therapy Program, Layton has worked on improving his fine motor skills, becoming more independent in dressing and hygiene activities, decreasing his sensory processing difficulties, and improving executive functions for school participation. Layton has always been motivated to work hard and reach his goals. Through Occupational Therapy (OT), Layton discovered his food exploration and preparation skills. He recently prepared sushi and smoothies for the staff! Layton is currently a part of his school band and plays percussion without headphones, with a goal of playing "quads."
Over the years Layton and his family have been incredible supporters of Easter Seals Greater Houston and our clients. Every Holiday Season, Layton does a pajama drive to give to our clients that are most in need. In 2018 Layton was one of our Walk With Me Ambassadors and captain of "Team Super Layton". The Craig Family has helped raise crucial funds for the Children's Therapy Program and their Fun Factory Swing System.
We have gathered some pictures from our many memories with Layton and his family. We are so thankful and proud to have been a part of Layton's journey to becoming a caring, thoughtful, responsible, and hard-working young man. Way to go, Layton! We are always cheering you on!