New Friends, New Classes, and New Skills!
NEW SCHOOL YEAR, NEW FRIENDS
The first week of school is always fun and exciting, and this year was no exception for Easter Seals Greater Houston's The Caroline School (TCS) students and teachers. We kicked off the 2022-2023 school year with many smiling faces – some familiar, and some new. We welcomed 4 new students and a new Teaching Assistant! More information about our newest Teaching Assistant, Rochna Sherrill, can be found here.

MOVING IN & GETTING ORGANIZED
New school years bring new classroom layouts, organization systems, and routines. To lessen the overwhelm and incorporate student learning of these processes, our students "moved in" to their vocation classroom this year. Using assistive technology and a little guidance, they unpacked their boxes of toys, dishes, linens, and personal items to organize their new learning space. Students of all ages will use this space, their Vocation Classroom, to develop and practice skills in the areas of pretend play, daily living, pre-vocation, and vocation, as well as self-help.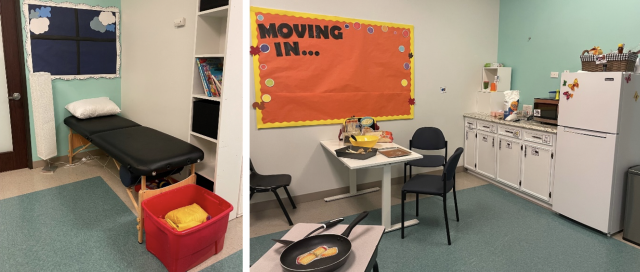 These skill areas are important pieces of a student's curriculum at TCS. Our collective student teams (teachers, therapists, and families) work hard to provide experiences that develop skills used in not only in school, but at home and in the community. While it was initially difficult for the teachers to leave the room "unfinished," it was totally worth it. The students loved moving in!

COME JOIN US
We are still enrolling for the 2022-23 school year! We have a couple of seats to fill in both our younger and older age groups. To learn more about The Caroline School or to schedule a tour, contact Michelle Andrade at 832-776-1758 or mandrade@eastersealshouston.org.
The Caroline School provides individualized education to students in the areas of developmental delays, multiple disabilities, and medical fragility. The Caroline School team serves learners, up to 21 years of age, and helps them achieve their highest levels of physical, social, and cognitive development. Learn more at CarolineSchool.org.