New, Easier Way to Find Helpful Apps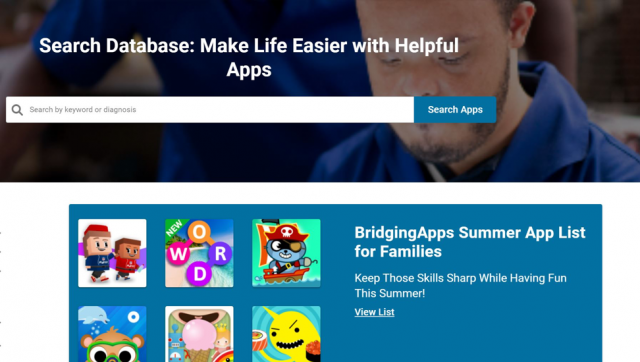 The BridgingApps program and website helps people with disabilities, parents, older adults, teachers, veterans, and their families leverage mobile devices and apps to enhance their lives. To that end, we have been hard at work updating and improving our App Search Tool, which launched this August.
Finding the right apps to suit individual needs can be complicated and overwhelming. The new Search Tool is designed to minimize that problem with up-to-date features that help users navigate the (also recently updated) database quickly and smoothly:
FAQ page
User-feedback options
New and improved Contact Us options
Simplified Search & Navigation setup
Easy-to-use Save Searches
Options for creating and saving personalized, customized lists
New user-ratings and user-community opportunities
An array of better-organized app lists
An updated Categories sidebar for a quick overview of what's available (apps for Learning, Independent Living, Leisure & Recreation, etc.)
And for users who still get overwhelmed with the number of options: the curated list/View All Lists section, headlined by our new "Confused Guy" logo, for an extra hand getting started—plus assurance they aren't the only ones who ever have trouble.