Veteran Family Camp Fall 2022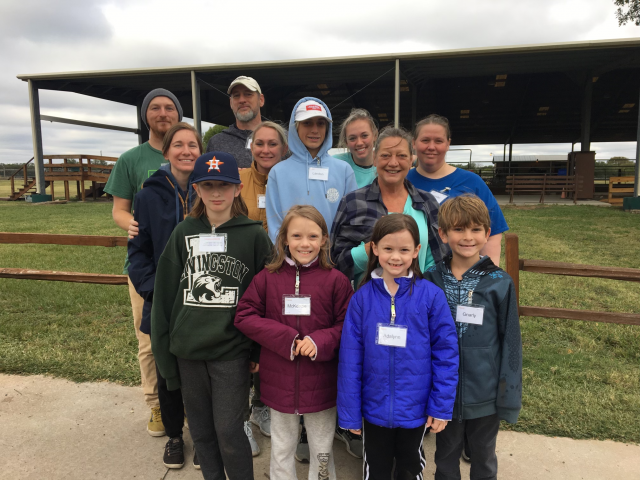 The last weekend in October, single-parent and blended-family Veterans and their extended families attended our Fall 2022 Veterans Family Camp. Friday night, the families gathered around the campfire for skits, s'mores, and lots of dancing. Saturday morning, each family had a clinical therapy family session that focused on the question, "What do you want to get out of camp?" Then Saturday and throughout the weekend, the Veterans and their families participated in photography, cast fishing, archery, and horses, and cheered each other on at the Tower and Big Swing. Saturday afternoon, there were clinical groups based on age, and the Veteran parents had a chance to talk with other Veterans parents, as did the Veterans' teen, pre-teen, and young children.
There were lots of wonderful outcomes from the clinical therapy group sessions. The Veteran parents said they liked best: hearing everyone else talk, and realizing they're not the only one; partnering up and sharing contact info; encouraging each other, and engaging in helping each other; and "having the fire lit" in regards to how they could do things differently after camp. The Veterans' teen children said they liked best: learning new things about each other, which happened both among siblings and new friends. The Veterans' pre-teen children were the clinicians' (understandably!) fidgety group. The clinicians found fun ways to bring discussion out of the paper airplane-making and impromptu paper ball basketball competitions. The clinicians and pre-teens talked about negative thoughts and feelings, and how they could work to make them "fly away" or to "throw them away." The Veterans' young children drew family portraits, and from those had insightful conversations with the clinicians on how they saw their families and their roles within their families.
Our team of Licensed Mental Health Professionals also talked about the wonderful outcomes they saw come from camp, including seeing how the families they work with interacted out of session and in real life, being able to see "the big picture," seeing clients come out of their shells, and seeing their clients see them as "normal people" and not just clinicians. The clinicians also said it was great to just have fun. One even noted that her client, a Veteran's teen child, was more open in their 1:1 clinical session after camp.
Easter Seals Veterans Program, and the Clinical Therapists in particular, are so thankful for the donors and funders who support mental health programs like individual, family, and group sessions, and family camp. Special thanks to BNSF Railway Foundation, The Bob Woodruff Foundation, Brian W. and Irene H. Binash Foundation, Inc., The Clayton Fund, The Coleman Family, Comcast - Houston Region, CVS Health, Deena L. Morgan, George and Mary Josephine Hamman Foundation, The George Foundation, The Henderson-Wessendorff Foundation, Darri Ofczarzak, The Powell Foundation, Sartain & Tamez Family Trust, The Schissler Foundation, State Farm Insurance, Strake Foundation, Texas Veterans Commission, Texas Health and Human Services, Texas Veterans + Family Alliance, Walmart, and The Whalley Family Foundation. We're looking forward to our next Veterans Family Camp, set for Spring 2023!